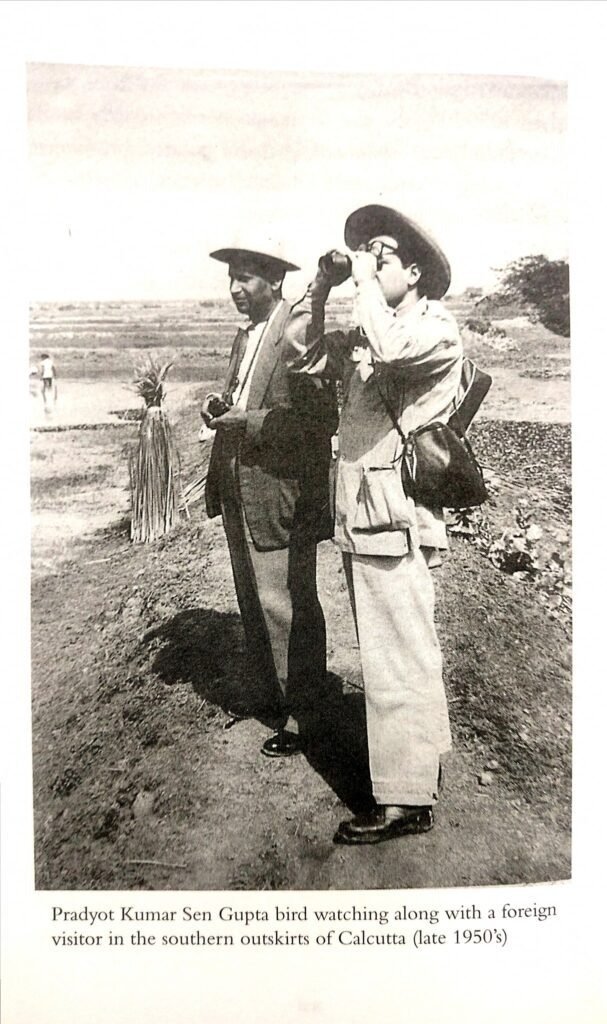 Pradyot Kumar Sen Gupta (1898-1979): The first person to scientifically document the birds in and around Calcutta and Santiniketan.
He serialised in 10 parts the notes that he took, along with his personal observations and discoveries, in Visva-Bharati News, starting from Vol. XXIII, No. 11, in May 1955, and concluding with Vol. XXVI, No. 11, in May 1958. These 10 instalments and black-and-white illustrations commissioned by Sen Gupta, but not used earlier, have been put together by Gautam Sengupta, son of this naturalist, in a book titled Birds Around Santiniketan recently published by Bolpur-based Birutjatio Sahitya Sanmilloni.
An introductory note has been given to 'Birds Around Santiketan' by famous naturalist and birdwatcher Late Kushal Mookherjee.
"Bird watching involves people who identify birds by their appearance, behavior, calls and song. It is a most invigorating hobby the pursuit of which provides a connect with nature and instills mental satisfaction. Bird watching has evolved through the years and enthusiasts today are in millions. From the humble pair of binoculars and a few reference books of old, the activity today involves sophisticated optical equipment to numerous books and field guides, not to mention resources on the Internet. In fact, ornithology is endowed with literature far ahead of any other branch of natural science.
Pradyot Kumar Sen Gupta was a perfect birder, far ahead of his time and virtually had no predecessor to follow. He was not only a pioneer in bird watching in eastern India but one of the few Indians interested in birdlife. S.C.Law was probably the only Indian person in Calcutta before Sen Gupta to pursue this hobby in the early 20th century and even published Prakriti, a journal that folded up long ago.
Sen Gupta's methods of observation underscore his penchant for detail. This made him a perfect birder. In birding, the taking down of detailed field notes is the most critical tool to identify and record the behavior of birds. A birder is required to have not only keen eyesight but sharp hearing as well. There were hardly any books or field guides in those days to help identify birds in a trice. Salim Ali's Book Of Indian Birds was published in 1943 and there were some books written by foreign birders.
Almost every bird identified by Sen Gupta was supported by detailed notes that give an insight into the intimate details and peculiarities of the species observed and recorded. This method must have provided him with deep satisfaction.
I feel for the present day birders who identify birds quickly from field guides, without reading through a lot of literature that contain minute details about their behaviour, breeding systems and other interesting and intimate insights. In my personal opinion, many among today's birders do not observe a bird for prolonged periods in order to note down its activities or how it uses a particular habitat to its advantage. The practice now is a quick exercise of spotting, photographing, identification from a field guide and adding the bird to a check list. This shortcut way of birding misses out on spotting sub-species that might nit have been recorded earlier in an area.
Sen Gupta's eye was tuned to keep a lookout for new arrivals, sub-species, like the wagtails he tracked or the subtle distinction between the Hoopoe and its European cousin, both of which are now considered to be a single species.
I was privileged to accompany Sen Gupta on one of his trips to 'Kayaler Bagan' (now Chintamani Kar Bird Sanctuary or CKBS) near Narendrapur, in the outskirts of Calcutta, in 1974. I was in school at that time and was a regular at the 'Prakriti Paruar Daftar', a group dedicated to nature study of the Sandesh magazine edited by Satyajit Ray and Lila Majumdar. I and, Subhamoy Chatterjee, a friend from the Daftar, accompanied Praddyot Kumar Sen Gupta and K.C. Roy Chaudhury, the Chief Conservator of Forest of West Bengal, to 'Kayaler Bagan'. We were a very small group of birdwatchers in those times, never having met others from Calcutta pursuing the same hobby except Jibon Sardar (Sunil Bandopadhyay), who was perhaps the originator of the first Nature Club Movement in 1961, the 'Prakriti Paruar Daftar' and the birdwatcher Ajoy Home.
Bird watching with Pradyot Kumar Sen Gupta was a special treat on my first visit to Kayaler Bagan, now a popular destination for many. I recall Sen Gupta learning on a tree trunk, listening to the calls of the birds on the canopy of branches above us and identifying the callers. I was fascinated at one point of our outing when he pointed out to us that a White-throated Fantail Flycatcher could be heard nearby. Moments later there was the bird flitting from branch to branch right in front of us giving out its lovely call. It was my first sighting of this particular bird. I was fascinated by the way he identified birds by their calls while jotting down notes at frequent intervals.
In the following years, inspired by him, Ananta Mitra, Kalyan Dey and I, launched a campaign and managed to convert 'Kalayer Bagan' into a protected area in 2005.
Sen Gupta would have been a very lonely, indigenous birder when he was enticed to the wonderful hobby of bird watching in the 1940's. During that time the only birdwatchers that were active in this field were mostly foreign nationals.
Unlike today's birdwatchers, Sen Gupta was alone with his notes and the mental images of the birds spied through his pair of binoculars. Today, the worldwide web and social media provide immense opportunity and resources for the serious birder to share and discuss with others spread across the globe.
The bird habitat in Santiniketan and its surrounding have changed since the middle of the last Century, I would say, for the better. Habitat diversity is more at present than what it was when Birds Around Santiniketan was serialised. More woodlands have been created and most importantly new wetland have come up to attract waterbirds. The wetlands inside the Ballabhpur Wildlife Sanctuary in Santiniketan is one of the most important refuge for waterbirds in southern West Bengal.
In the 1950s Santiniketan was an arid area dominated by the Khoai with patches of paddy fields and village ponds. The avifauna recorded by Sen Gupta typifies the habitat then. 'Birds Around Santiniketan' lists only one single species of duck, the Gadwall. Over the years the creation of three large waterbodies in the Ballabhpur area attract a dozen species of ducks and geese during teh winter months. Extensive afforestation of portions of the Khoai has also provided a habitat for more birds with the number of species recorded in recent times swelling to over 300.
This compilation on the birds of Santiniketan is an eye-opener, that shows us how habitat change can alter the population of the birds of an area.
'Birds Around Santiniketan' is an extremely important, seminal document to show present-day birders how the bird population changes through time and habitat changes.
I appreciate the initiative taken by Sen Gupta's son, Gautam Sen Gupta, himselfa botanist, in re-publishing this rare, important and historical insight into the birdlife of a small corner of West Bemgal over half a century ago."
Courtesy : Birds around Santiniketan Pradyot Kumar Sen Gupta
Birutjatio Sahitya Sammiloni
2019.
Call: +91-9475453795
Timings: Sunday – Saturday 10am to 6 pm to place order.
Bank details will be provided. Pay total amount including postal charges.